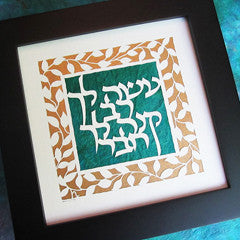 Hebrica Judaic Art
Find a Teacher, Make a Friend 3 - Jewish Paper Cut Art
From Pirke Avot: Get yourself a teacher, make yourself a friend. Original design hand-cut from fine, handmade and metallic papers. 12 x 12 unframed.
Asah l'cha rav v'koneh l'cha chaver... perfect gift for rabbi, gift for cantor, or gift for Jewish educator.
Hebrica and Miscellanica are now shipping all artwork unframed, representing a cost savings to you. However, we are happy to recommend a trusted online vendor, Art to Frames, to supply well-made frames and mats directly to you at a very good price.
©2020 KimPhillips, Tiny Creative House

---
More from this collection